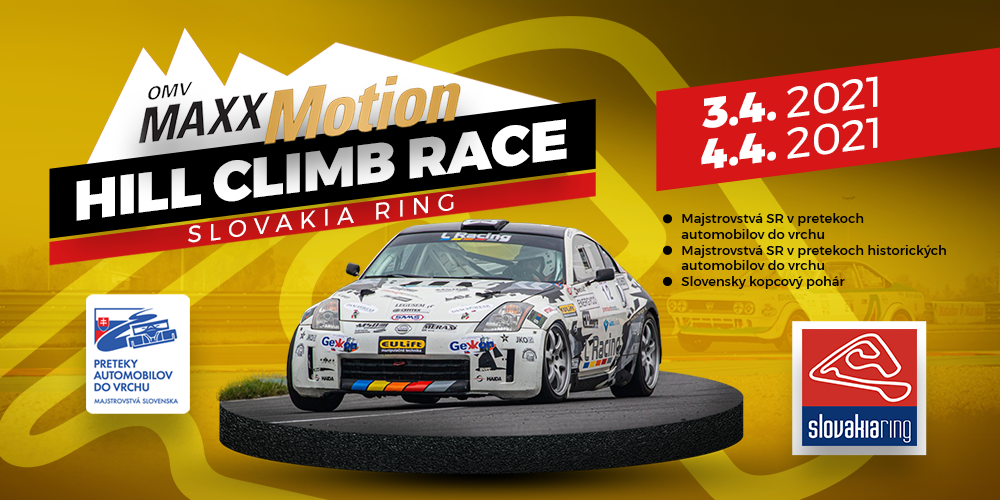 Slovak Hill Climb Championship
3–4 April 2021
The Slovak Hill Climb Championship starts also at SLOVAKIA RING - as part of anti-pandemic measures in a controllable environment. Despite the flat nature of the track with only slight crests, it will allow the Slovak teams to start the season in a safe manner.
Drivers info
Entry form:
http://www.sams-asn.sk/prihlas...
This event will be organized in accordance with the currently valid regulations of the Government of the Slovak Republic for organizing one-off mass events. Entry to the circuit will be allowed only to participants who provide a negative PCR or AG test not older than 12 hours (we also accept test from the previous day). Strict rules of wearing protective masks (exterior) and respirators of class min. FFP2 (interior) apply.
Catering in the area will be offered through restaurant paddock-window – for lunch. For dinners you can pre-order food from a menu on site.
Here is the list of Antigen Covid-19 testing in nearby area: https://www.health.gov.sk/?ag-mom.
Media
The media are allowed to enter the complex only during Saturday and Sunday (April 3.-4., 2021). To participate in the event, fill up the online accreditation form - after its approval, you will receive instructions for entry and movement in the area. The numbers are limited and we reserve the exclusive right to confirm / decline accreditation. To enter the complex you need a confirmation of a negative test for Covid-19 which is not older than 12 hours. The Covid-19 test center will not be on site this time, we also accept confirmations from the previous day.

Results