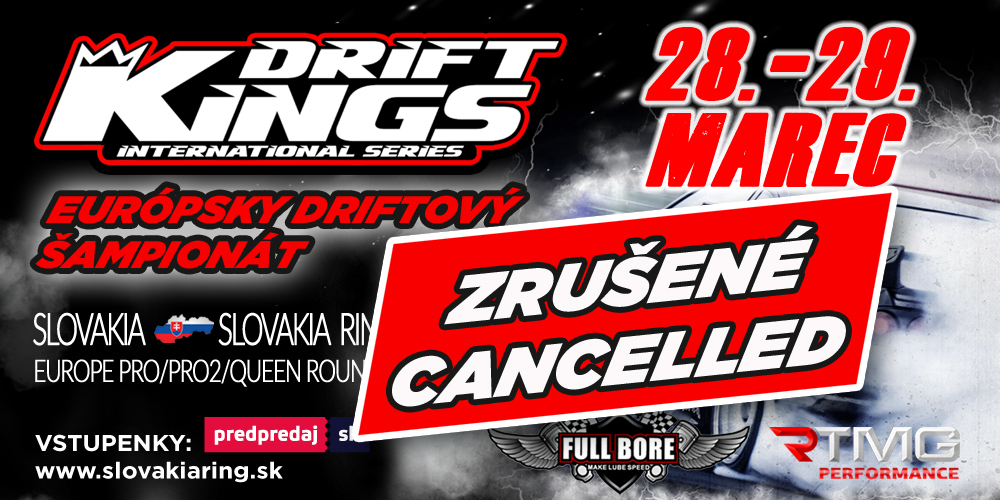 Following the restrictions and government regulations the circuit is also forced to postpone the DRIFT KINGS event originally scheduled for 28-29 March 2020. The new date is still in negotiation and will be announced later on.
This international drifter series is well known for Slovak fans: under the previous name "King of Europe" it had visited our circuit several times. The kings of "controlled skid" this time open our motoring season 2020. The series has a 15-year history and is supervised by the original creator of this discipline Japanese Keiichi Tsuchiya. Drift has a strong fan base and is one of the fastest growing sports. Everything scores: the precision of the driving line, the maximum use of the throttle, tire smoke and other parameters that judges also evaluate from telemetry. For fans it is mainly a powerful experience, boosted by fantastic parallel battles. The European branch of Drift Kings begins this year here at SLOVAKIA RING and later continues to Hungary, Germany, Greece and Cyprus.
10 € with VAT
15 € with VAT
Prices are with VAT. Kids under 12 years or 150 cm have 50% discount. Free parking.
Media info
Accreditation form https://slovakiaring.sk/sk/media-information
Accreditaion deadline: 20.3.2020
Media accreditaion: Main cash desk 28. a 29.3. from 7:30 till14:00
Media centrum: Race tower, 1st floor 28.-29.3 from 7:30 till 19:30
Gallery